Bethesda Hospital Transforms to Address Homelessness
This is some test text to investigate an issue. and a link
and a line break with some bold text added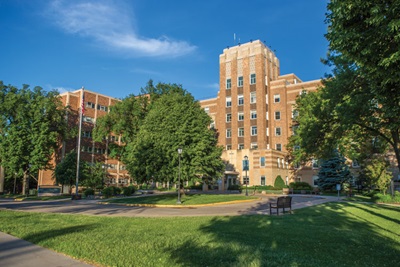 Minnesota's first dedicated COVID treatment facility transforms again to meet the needs of the community
After more than a century of historic service — including serving as Minnesota's first dedicated COVID-19 treatment facility — Bethesda Hospital will transform again to meet another urgent community need. Beginning in December 2020, Bethesda will take on a new mission that is critical to our community's COVID-19 response – providing shelter to 100 people in partnership with Ramsey County. But changes like this aren't new for Bethesda. For more than a century, the hospital has focused on addressing our community's most pressing health needs. In fact, supporting those most in need was the very reason the hospital was founded in 1883.
Bethesda's first patients were residents of Swede Hallow, a St. Paul neighborhood home to generations of immigrants. The crowded neighborhood had no running water or electricity and its residents had little access to health care. Recognizing the need for a healthcare facility serving the neighborhood, Reverend A.P. Moten opened Bethesda Hospital at its first location nearby.
As the city grew, Bethesda became well known for providing care even to those who couldn't pay. The hospital moved several times before it was relocated to its current site in 1932. But it didn't stop evolving. Its nursing school trained units to serve in World War II. It played a pivotal role in the development of the pacemaker when Dr. Samuel Hunter implanted the first permanent leads into a patient's heart at the hospital in 1959. In 1963, Bethesda established the city's first dialysis unit. And in 1989, it became a long-term acute care facility, or LTACH, to serve patients with complex medical needs that required longer stays.
Then, in early 2020, Bethesda transformed again, becoming the region's only dedicated COVID-19 treatment facility. It played a critical role in the state's early pandemic response and achieved some of the highest survival rates in the nation – and even the world – during the early days of the pandemic. Its care teams created new care models and connected patients to treatment options and clinical trials supported by researchers at the University of Minnesota.
While Bethesda was home to many initial advances, what made care there successful was not the place, but the model established there, with the right protocols to identify patient risks early and offer appropriate treatments. Treatment protocols initially developed at Bethesda are now used in our new COVID-19 care center at St. Joseph's Hospital, and across our system to save lives.
On the Frontline of the Homelessness Crisis
Now, our community's needs are evolving once again. And just as we have always done, we will transform Bethesda to meet the most pressing health needs of our community.
Today, that means supporting our community's response to the homelessness crisis. The economic recession has pushed a record number of people into homelessness, and nearly 400 people are currently living on the streets of the East Metro. To avoid crowding and reduce the spread of COVID-19, current shelters can't expand to accommodate the growing need. Many are now living in encampments dotted across the city, which are unsustainable during winter in Minnesota.
At Bethesda, we have an opportunity to serve up to 100 people experiencing homelessness during the pandemic. There, residents will have private rooms, meals, bathroom and shower facilities. Ramsey County will coordinate mental health care and chemical abuse treatment on site, as well as a variety of social services such as employment assistance. And those with symptoms of COVID-19 will have access to treatment and the ability to isolate from other residents in a separate area of the building.
Our leaders are in active conversations with Ramsey County about how we can help support clinical needs at Bethesda and draw on our years of experience partnering with community organizations to address social issues that have a significant impact on health. For example, with Guild and Heart Connections, we created Coming Home, a program to disrupt the cycle of homelessness and improves health by addressing social factors like access to food, clothing, furniture and employment. And with Catholic Charities, we operate telehealth hubs in the St. Paul Opportunity Center, where patients can access virtual mental and chemical-health counseling.
We know adequate housing is critical to improving our community's health, and now, it's also critical to preventing the spread of COVID-19 too. Evidence shows people without stable housing experience higher rates of disease, are more likely to have multiple health concerns and have a lower life expectancy than others in the same community. These health challenges, in turn, make it harder to hold a job. And during the pandemic, they're more likely to suffer poorer outcomes if they should contract COVID-19.
As Bethesda evolves, it will continue to play a critical role in the state's COVID-19 response – but in a new way. Since the pandemic began, the medical community has learned a lot about how to treat the illness and increase survival rates, and the models created at Bethesda are saving lives throughout our health system. That allows us the opportunity to transition the site to a new phase of support.
Too often, in times of crisis, the most vulnerable in our community are overlooked. True to its mission, the new use of Bethesda will ensure we help those most in need as we aggressively respond to the COVID-19 pandemic.